My Family
Little ole me...
My name is Bumble. I was registered with the AKC as Pagan's Cowboy Up-Mistiblu. My mom is hoping to attach letters at the beginning and end of my name. I'm not real clear yet on what that means. I HOPE it means lots of going bye-bye, liver, prizes, rosettes, trophies....I could go on an on about what I HOPE it means...me and Mom on the road.
UPDATE: Since the above, I have learned that earning titles does indeed mean going bye-bye, liver, prizes, rosettes, and trophies. Mom attached the first letters to my name on Saturday, September 10, 2005, in Belleville, IL at the Egyptian Kennel Club's Rally trial. Now it's September, 2017 and I have a total of 89 titles and awards. I am officially ...
UGRACH, UCD, URO1, UCH, V-1, Champion, MACH Pagan's Cowboy Up-Mistiblu CD, RAE2, MXS, MJG, MXP2, MXPB, MJP3, MJPB, MXF, MFP, T2BP2, CGCA, TKP, EAC, EJC, EAS, EJS, TN-E, TG-E, ECC, WV-O, Open Versatility Award, HP-N, ARC VX, FFX-AP2, FFX-AG, TT
Yee haw!
Sadness Update: Bumble lost his fight with pancreatitis leading to kidney failure on October 12, 2017 at 12 years, 362 days of age. Devastated hardly begins to describe the loss I am feeling.
My mom, Lisa, is a 911 operator.
Not quite as exciting as you may think. She says she works purely to support me and my extended family. She fancies herself a turtle person . She also likes raccoons and horses, and has TOUCHED SECRETARIAT

Apparently that's some big name race horse from the past. She even posted proof! I'm embarrassed to report she also collects stamps with Rottweilers and turtles and horses on them. If you come across any, I'm sure she'd be thrilled to have them (hint, hint). She loves traveling and going to dog shows, and that's a GOOD thing.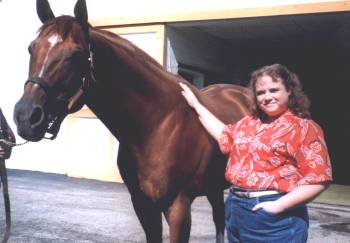 My extended family includes...
3 dogs and 4 turtles. The dogs are Bosco & Dolly, Black & Tan Coonhounds, and most recently my sister/wife??? What the heck does that mean? Her name is Beejus (Click here: Esmonds Goddess of Wild Things) and she is Annoying with a capital A! She IS a rottweiler so atleast she has that going for her.
The turtles are 4 red-eared sliders. They are taking up a tad more of MY yard than I care for. They even have a little pond!